Cheers everyone!
I hope your holidays are going well and things are wrapping up nicely as we head into 2022. What a crazy year it has been, and even crazier is that next year we will be celebrating our 40th year in business. The fact that we've been welcoming locals and visitors to our little corner of New Hampshire for all these years is mind-blowing. We still get excited anticipating meeting new guests and look forward to catching up with our regular guests who still come to visit at their favorite seasons throughout the year. Nothing is better than seeing one of our couples who got married with us, now visiting with their young families.
When I look back on how business has grown, we are so darn grateful for our amazing staff who showed up each day, working so hard. This was not an easy thing to do with all the regulations that we followed during the pandemic to make sure that both our staff and guests were as safe as possible throughout the past year. The effort that they've put forth in this challenging "new normal" that we are all navigating, says a lot about the people that (THANKFULLY) work here.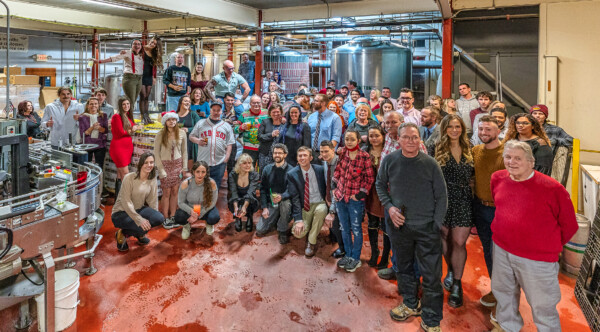 YOU, our customers, are so special too. The support we get from you is incredible. The feedback is so important to our growth as a business. We love hearing all your input. The fact that you take the time to let us know means a lot.
Enter social media… 40 years ago we never imagined people would be taking our beer with them to do things like, hike to the top of a mountain to celebrate their accomplishment, then tag us in the photo. Not going to lie.. it brings such a sense of pride when we see these.
Finally, in 2021, our daughter Molly took over the majority of the day-to-day operations for the inn, brewery, and restaurant. It's no surprise she sailed into the role. She's a phenomenal General Manager. WE are incredibly proud.
CHEERS, MOLLY, WE ♥ YOU!
On behalf of The Rice Family, wishing you health and happiness in the new year!
P.S. Here's a great pic of Molly from back when she was 5? 6? You'll be seeing lots more old photos like this next year including a really cool picture of Keegan in the pot sink when he was a baby, that was where he got his bath each day lol. Stay tuned!