Take a sip of our Mosaic Papaya Pale Ale then mix a little in with this Craft Beer Crab Cakes recipe… you won't be sorry!! 🍻🦀
CRAFT BEER CRAB CAKES RECIPE

Crab Cake Ingredients:
16 oz lump crab meat
2 eggs
1/2 cup yellow or red bell peppers
1/2 cup of green onions
1/2 tsp salt
1 tsp black pepper
1 tsp Old Bay seasoning
pinch of cayenne
1/2 cup Mosaic Papaya Pale Ale
1 tbsp, melted butter
2 1/2 cups panko
Aioli Ingredients:
1/2 cup of mayonaise
1/2 tsp orange peel zest
1 tbsp OJ
1 tbsp Mosaic Papaya Pale Ale
1 tsp fresh cilantro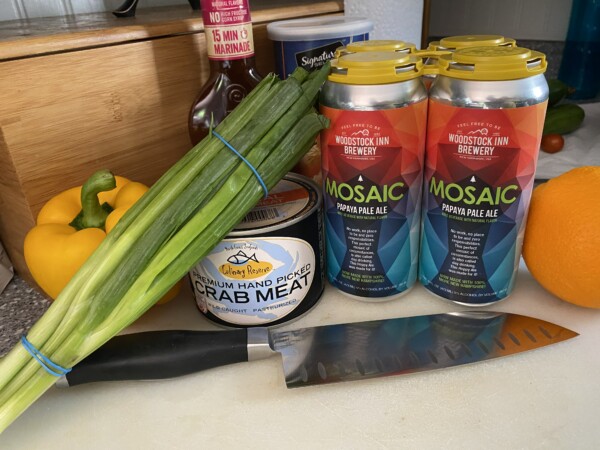 Intructions for Crab Cakes:
Mix all ingredients together in large mixing bowl.
Form patty shaped cakes and refrigerate until firm – 1 hr.
Heat frying pan on medium high then add olive oil and crab cakes.
Sear each side until golden brown.
Once browned, you can deep fry, use an airfryer or the oven to finish cooking them through OR continue to cook them another 10-15 minutes in the frying pan on medium low.
For Aioli: mix all ingredients until completely blended together and serve with your crab cakes.
###
ABOUT THE BEER
Mosaic Papaya Pale Ale is an easy drinking pale ale with papaya and other tropical hop flavors, balanced by a light malt sweetness.
With a low ABV of 5%, Mosaic Papaya Pale Ale is a hoppy, smooth and fruit-influenced brew that's made for day drinking! Mosaic hops are known to impart notes of earthy pine and fruit aromas from berry to mango. To learn more about hop flavors, this is a great site.
During the brewing process, hops are added at the beginning of the boiling stage to give the beer a bitter flavor and more are added at the end of the boil for aroma and flavor. Each beer is brewed differently. Some beers call for hops to boil for 60 minutes and some for 30. All beers contain some bittering hops. Read more about boiling hops and bitterness here.
You can find Mosaic Papaya Pale Ale on tap at the brewery and in 16oz, 4pk cans in package and grocery stores throughout New England, including Maine, Massachusetts, New Hampshire, Rhode Island and Vermont. Can't find our beer? Ask us!
Tour the brewery and try these beers at the source. Tours are daily at 12p. Cost is $9 per person and includes a pint glass and craft beer tasting.