Here's a new make-at-home recipe for Double Pig's Ear Brown Ale Chili because Fall means football, dark beer and chili! A crock, a chili dog or chili nachos all go great with this beer — and when it's is added to homemade chili, it's a taste like no other!
Ingredients:
2 white onions diced
1 tablespoon of minced garlic
3 Ibs ground beef
1 Ib ground pork
2 large cans of red kidney beans (drained & rinsed)
1 can of black beans (drained & rinsed)
2 jalapeños diced
2 cans of diced tomatoes
2 large cans of tomato sauce
1 tablespoon oregano
3 dashes Tabasco Sauce
1 tablespoon cumin
2, 16oz cans of Double Pig's Ear Brown Ale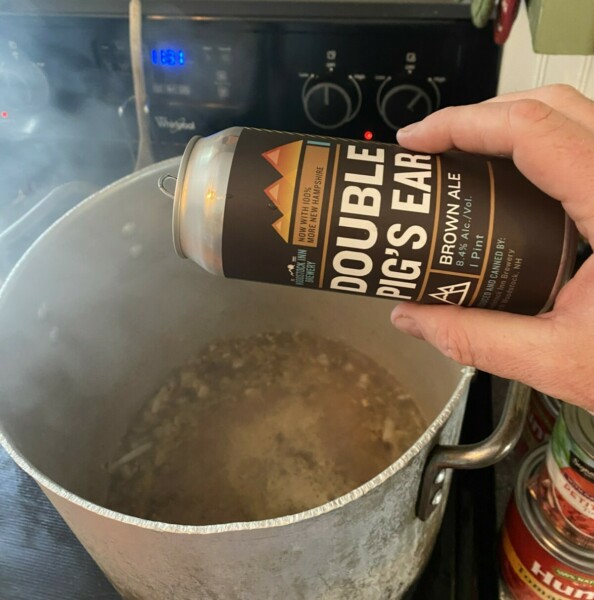 Cooking Directions:
In large pot add onions and garlic cook on high heat for 2 mins.
Then add ground beef & pork cook till browned.
Next, add one 16oz can of Double Pig's Ear Brown Ale and cook on med-high heat until beer is completely reduced.
Add beans and diced jalapeños, stirring into meat mixture.
Then add the second 16oz can of Brown Ale, reducing fully again.
Finally add diced tomatoes and tomato sauce, along with oregano, cumin and Tabasco Sauce. 
Put on low heat and simmer a couple hours and boom!! Double Pig's Ear Brown Ale Chili aka the best chili outta the White Mountains. Enjoy!
#####
About the Beer
Double Pig's Ear Brown Ale is twice as much alcohol as our Pig's Ear Brown Ale, weighing in at 8.4% ABV. This smooth, rich beer is deceptively easy to drink. Similar to Pig's Ear, the taste is nutty with rich caramel and toffee notes.
Wanna know more about brown ales? Read more here.
The original, Pig's Ear Brown Ale is Woodstock Inn Brewery's flagship beer. It was the first recipe brewed back in 1995, the year the Rice family, still owners, made the journey into craft beer.
Double Pig's Ear Brown Ale is available at the Brewery and sold in package and grocery stores throughout New England, including Maine, Massachusetts, New Hampshire, Rhode Island and Vermont. Need help finding our beer? Ask us!
Tour the brewery and try our beers at the source! Tours are Monday – Sunday at 12p. Cost is $9 per person and includes a pint glass and craft beer tasting.