At Woodstock Inn Brewery there are two things we love: great beer and great food. Here's a beer recipe for a perfect dinner. Easy to make and even better to eat. Plus, we're braising meat in beer, which is never a bad idea!!
We use our roasted, nutty, malty, Double Pig's Ear Brown Ale in this recipe.
Ingredients:
2 lbs of boneless short ribs
1 large shallot
1 medium white onion
3 carrots
3 sprigs of fresh rosemary & thyme
1 cup of diced pancetta
2 cups of beef broth
2 cups of Double Pig's Ear Brown Ale
1/2 cup of all-purpose flour
2-3 tablespoons of EVOO
Salt & pepper to taste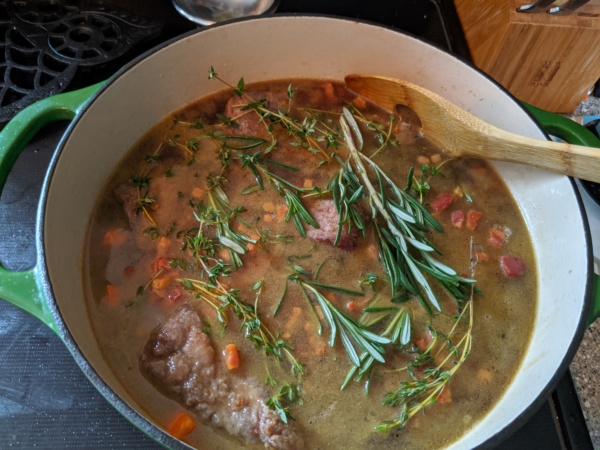 Cooking Instructions:
Salt & pepper short ribs, then dredge in flour
Dice veggies
Dice pancetta
Cook Pancetta in Dutch Oven until all fat has rendered. Then remove pancetta and do not discard the grease.
Add 1 tablespoon of EVOO to pancetta grease
Turn heat up to high and brown short ribs on all sides. Remove short ribs once browned
Lower heat to medium
Add diced veggies with 1 tablespoon of EVOO, cook until onions are translucent.
Deglaze the pan with veggies left in it with 2 cups of Double Pig's Ear Brown Ale
Bring to boil for 2-3 minutes
Add 2 cups of beef broth
Add short ribs into cooking liquid, submerging them
Add cooked pancetta
Add sprigs of whole rosemary & thyme
Put the lid on and place in the oven at 350 for 2 hours. Then reduce heat to 325 and cook for additional 35-45 minutes
Add salt & pepper to taste
Remove from oven let sit with lid on for 20 minutes before serving
Serve short ribs on a bed of mashed potato with your choice of vegetable.
We hope you enjoy this make-at-home beer recipe — let us know on Facebook!
Can't find our beer? Ask us!