You're up in the White Mountains of New Hampshire, having a great time with your family. You've finished your visit to Whale's Tale Waterpark. Everyone swam in the wave pool, flew down the slides and of course calmly floated down the Lazy River. Next comes that moment of transition: that moment when you need to leave. The kids are tugging on your pants, demanding to know where they're going next. The little one is about to have an atomic melt down because she just does not want to leave. Her tears are starting to bubble up but before you lose it and get frustrated, remember that the Woodstock/Lincoln area has awesome kid's activities to help wind down an evening.
If you have little adventure lovers, check out the Lincoln Woods trail. It's located just outside Lincoln, down the Kancamangaus Highway, about 10-15 minutes out of town, past Loon Mountain. It's flat and easily accessible for the whole family with a huge parking lot. This trail runs right along the Pemigewasset River with plenty of great river views. Also, kids LOVE the suspension bridge – the quasi-famous, huge suspension bridge that welcomes you to the forest to begin your journey.
If your kids have more of an artistic side, you'll want to hit up Fired on the Mountain. It's our local paint-your- own-pottery studio.
If your family happens to be "pedal powered," there are a few different places in town that rent bikes. I'd recommend checking out Rodgers Ski and Sport, as their shop is located right off the highway and they have a great selection of bikes. Your entire family can rent bikes and just pedal around town or get a shuttle ride to the top of Franconia Notch and ride our amazing bike path. It's an 8-mile paved bike path that winds between mountains, lakes and scenic vistas. Be sure to bring snacks and plenty of water – we all know what a trip is like without snacks.
Make your vacation to the Whites "melt down free" by exploring friendly local businesses that welcome your whole family. Plan accordingly and let the kids explore as much as possible.
Also, many attractions in the White Mountains have reservation policies and some are only open specific hours. The best place for all this information is the White Mountains website.
Have questions about any other activities or want to give feedback on the ones I mentioned above? I'd love to hear from you!
BTW- Woodstock Inn Brewery has a terrific kids menu, serving breakfast, lunch & dinner.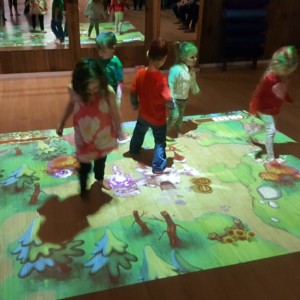 About Margarita and Live a little Fitness
Live a Little Fitness is more than a yoga and exercise studio. It's also the home of KidsStudio Play, an INDOOR PLAYGROUND, located in downtown Lincoln, less than a 10-minute drive from Woodstock Inn Brewery. Head over to the Village Shops and let your kids burn off their late evening energy while you enjoy a grown-up moment with friends. The space is dedicated to FUN, with plenty of room to run around, jump on the tire swing, use imagination and play on one of the two state of the art interactive game systems. Drop your children off to play with other kids or book a private family play time!