Photos & blog by: Haley Dumont
Days like today are what life is really about.
I love spending time outdoors and living in the White Mountains of NH doesn't disappoint. An endless amount of beautiful outdoor destinations. From 4000 Footers, to waterfalls to fishing or hitting a swimming hole.
I recently did a 4-spot adventure in one day that I'm sharing with you below. I hope to inspire you to make the best of your time in the glorious western White Mountains. If you have any questions or comments, I'd love to hear from you. Carpe diem!

Part 1: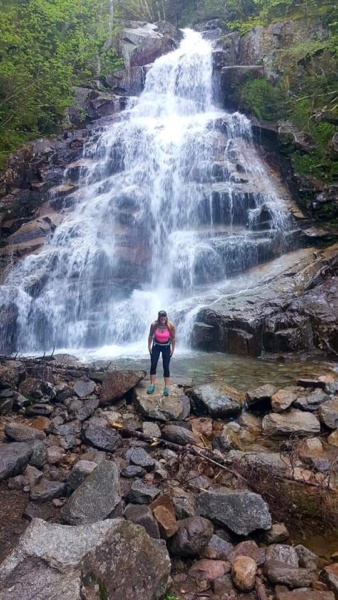 Franconia Ridge Loop- Falling Waters trail to Greenleaf trail and Old Bridal Path in Franconia Notch
This is one of my go to spots because of the waterfalls and the 360 degree views from the ridge. It's a quick 15 minute drive from the brewery. You can do the whole climb or just hike approximately 45 minutes to an hour up the Falling Waters Trail and just view the waterfalls. If you plan to do the whole Franconia Ridge Loop make sure that you check the weather before you head out! Here is a link to check the forecast for Mt. Lafayette.
This hike has almost 2 miles of above tree line hiking, climbs two 5,000 foot peaks and can be very dangerous in bad weather, it is not recommended for inexperienced hikers.
*This climb is challenging and can take you 6 to 8 hours to complete. Make sure you bring the ten essentials:
Headlamp, Map, Extra clothes, Water, Food, first aid kit, waterproof matches, knife, emergency shelter, (ex. space blanket) and sunscreen.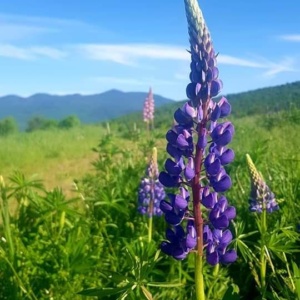 Part 2:
Lupine fields in Sugar Hill
A 30-minute drive from The Woodstock Inn Brewery through Franconia Notch will bring you to the tiny town of Sugar Hill New Hampshire, every year during the month of June there is a Lupine Festival. The Festival hosts multiple vendors and there are homemade gifts for sale in the center of town on Main Street. Lupines are wildflowers that only grow in specific areas in the White Mountains. Sugar Hill has wonderful views of the surrounding landscape and many places to pull over and view the Lupines. This is an activity you could do with the whole family! Click for more information.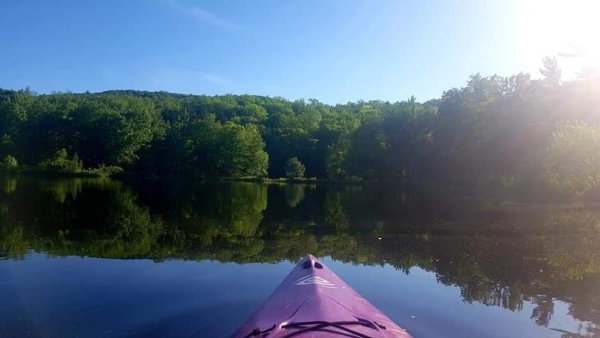 Part 3:
Kayak Coffin Pond in Sugar Hill
A short drive from the Lupine fields in Sugar Hill, you will find Coffin Pond. This pond offers wonderful views of Mt. Lafayette and Cannon Mountain. You can spend your time having a picnic on shore, bird watching, fishing, kayaking or just enjoy the beautiful view. There are no kayak rental shops in this area so you must bring your own. This pond is about 10 minutes from Cannon Mountain where you can take the aerial tram to the 4,080 ft summit. Close by Cannon is also Echo Lake Beach, Artist Bluff and Bald Mountain.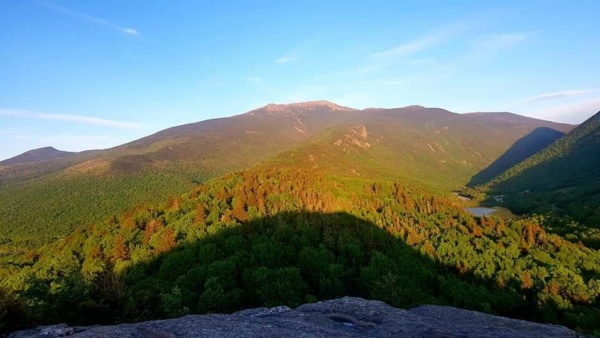 Part 4:
Sunset from Bald Mountain in Franconia
Head up 93 North from the brewery for about 13 minutes and you're at this scenic spot on Exit 34C. One of the best bang for your buck hikes in the White Mountains. This short hike will give you incredible views of Franconia Notch and is good for sunset from early spring until June-ish. If you're looking for a fun and rewarding hike for your family, this is your best option. Dogs will love it too! You can continue hiking over the ridge to Artist Bluff to complete the loop and get two different views of the mountains. If you plan to do a sunset hike, make sure you don't forget your headlamp!
About Haley:
Haley works at Woodstock Inn Brewery and lives nearby.  She hikes in her free time (almost every day) and is an expert if you have questions about trails and hiking in the White Mountains.