It's grilling season and that means Lemon Blueberry Pale Ale is in season too! It's brewed for drinking while grilling and for cooking too. How's a Lemon Blueberry Balsamic reduction on a big thick Center Cut Pork Chop sound!? Here you go.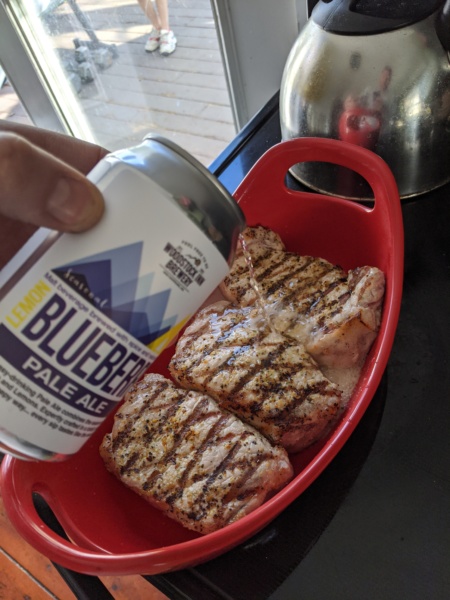 Ingredients:
1 lb Boneless center-cut pork chops (or boneless chicken breasts)
Lemon Pepper Mrs. Dash
1/2 can of Woodstock Lemon Blueberry Pale Ale
Sauce:
2 cups blueberries (fresh or frozen)
1 tbsp fresh lemon zest
1 cup Balsamic vinegar
1/2 cup sugar
1/2 can of Woodstock Lemon Blueberry Pale Ale
Directions:
Preheat oven to 375.
While oven is preheating, flash grill your meat (just for grill marks – will finish cooking in the oven).
Spray 9X9-inch baking pan with Pam.
Sprinkle some Mrs. Dash in the bottom of the pan.
Place pork/chicken in the pan, sprinkle with more Mrs. Dash.
Pour Lemon Blueberry Pale Ale over everything.
Bake for 20-40 minutes (depending on the thickness of your chops or chicken).
While your meat is cooking, put all of your sauce ingredients in a small sauce pan, cooking over low/med heat – stirring frequently. Sauce will reduce and thicken upon cooking.
Once your meat is cooked thru, remove from pan, spoon some sauce over the meat.
Serve with a side of veggie and starch of your choice. We did roasted brussel sprouts and baby fingerling potatoes!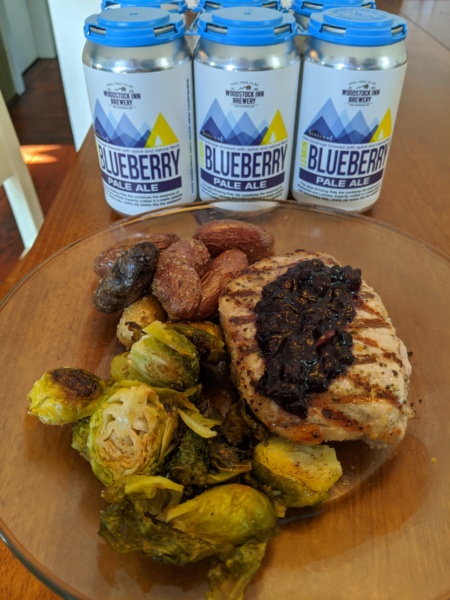 Notes:
Yeilds 4
Approx cost: $20