Woodstock Inn Brewery has released a new beer called Dream Catch New England IPA. This NEIPA has a 5.6% ABV and is brewed with Galaxy and Idaho hops. It's got a soft, citrusy melon in the front with just the right amount of bitterness in the finish.
Made in partnership with Trout Unlimited, $1.00 from every 4-pack sold will go back to the local Pemigewasset Chapter of Trout Unlimited. The Pemi Chapter is located in the White Mountains of NH and is dedicated to the protection and restoration of the cold-water fisheries of the Pemigewasset and Beebe River watersheds, and to the promotion of the sport of fly fishing.
Founded in 1959,Trout Unlimited is a national organization whose staff and volunteers work from coast to coast to protect, reconnect, restore and sustain trout and salmon habitat.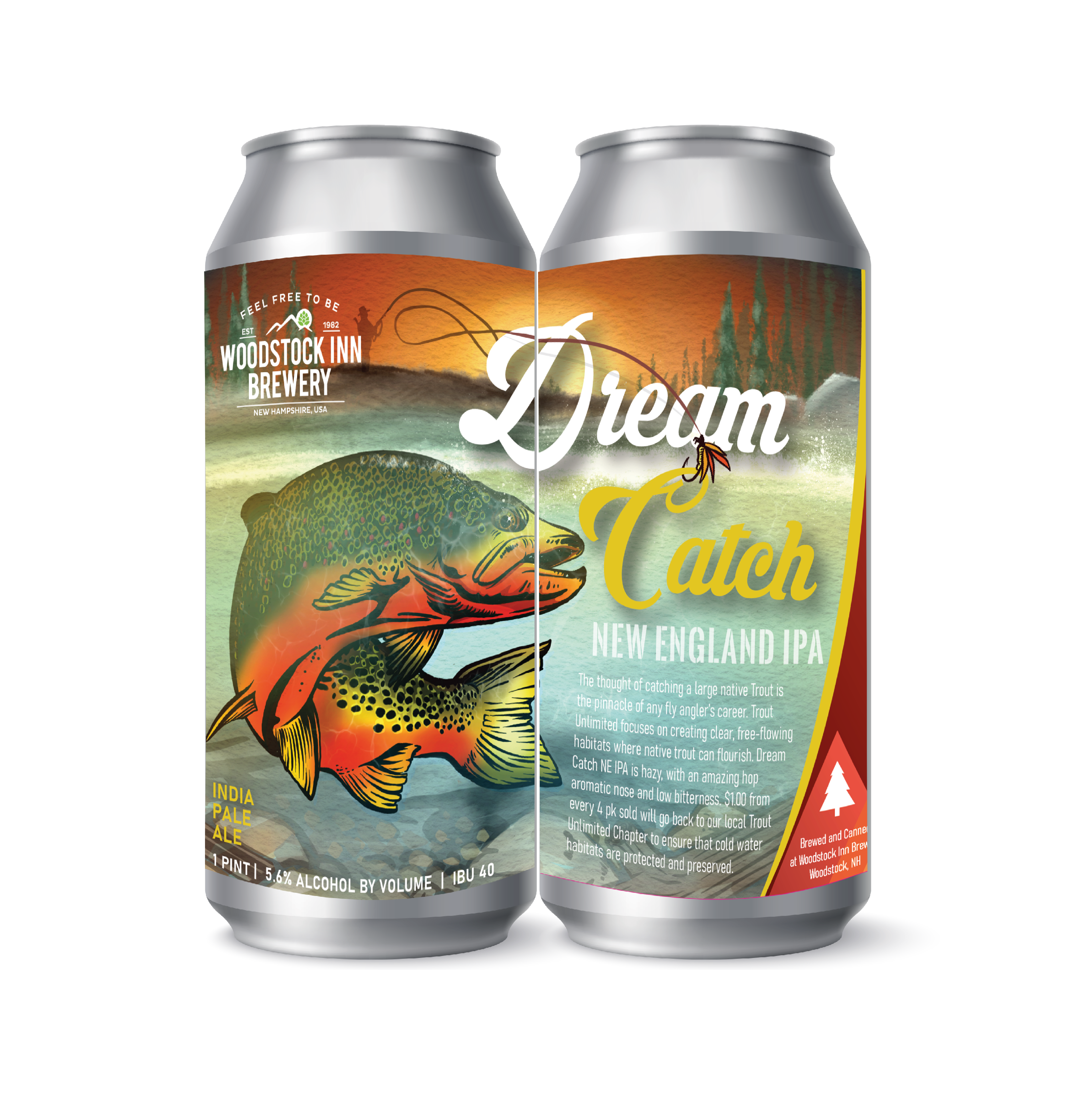 Dick McGrath, President of the Pemigewasset Chapter, said, "Our thanks to all the good folks at Woodstock Inn Brewery for making this donation possible. We really appreciate the effort and enthusiasm the Brewery has shown for this project. The revenue we receive from the sale of Dream Catch will allow us to continue our efforts here in central New Hampshire."
You can find Dream Catch NEIPA on tap and in 16oz, 4pk cans at the brewery. The limited-edition cans are also available for a short time in package and grocery stores throughout New England, including Maine, Massachusetts, New Hampshire, Rhode Island and Vermont. Can't find our beer? Ask us!
###
More about the Pemigewasset Chapter of Trout Unlimited
The Pemigewasset Chapter is one of 400+ TU chapters in the Unites States. Along with the NH Fish and Game Department and local universities, they study and work to preserve native brook trout populations. Other major projects they are involved with include the Pemigewasset River restoration and stabilization in Woodstock, and collaboration with The Conservation Fund removing migration impediments on five Beebe River tributaries located in Campton and Sandwich.
###
More About Woodstock Inn Brewery
Woodstock Inn Brewery is a multifaceted tourist destination at the basecamp of the White Mountains of New Hampshire. In 2022, the family-owned and operated property will celebrate its 40th Anniversary.
Many visitors are drawn to the all-inclusive location, which features an inn with 40 uniquely styled rooms and suites, an award-winning restaurant serving breakfast, lunch and dinner, multiple bars and live entertainment.
The Brewery is the highlight of the business. It started as a brew pub in 1995 and has expanded into a 30-barrel production facility.
Tour the brewery and try Dream Catch NEIPA at the source. Tours are daily at 12p. Cost is $9 per person and includes a pint glass and craft beer tasting.