How can you add a touch of New England in a Manhattan Clam Chowder? With a can of Red Rack Ale! It gives this classic metropolitan chowder a little touch of the White Mountains in every bite.
Prep time: 15 minutes
Cook time: 50 minutes
Yield: Serves 6-8
Cost: Approx $30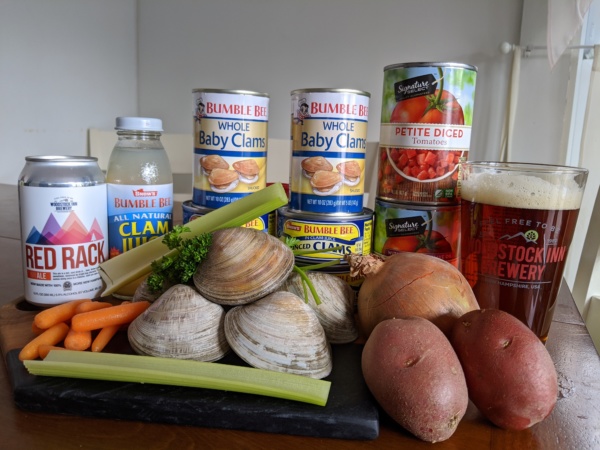 INGREDIENTS:
4 slices of bacon, cut in to small pieces
1 tablespoon Extra virgin olive oil
2 carrots, peeled and diced
2 celery stalks, diced
1 large garlic clove, minced
½ teaspoon dried thyme
2 bay leaves
1, 16oz can petite diced tomatoes
12oz V8 Juice – original recipe
2, 14oz cans of clam broth or juice
2, 10oz cans or 2 frozen packages of baby clams
1 pound red bliss potatoes, peeled and cut in to evenly-sized chunks
1 cup Red Rack beer
A dozen (or so) live small clams – i.e. littleneck or Manila clams
Salt and pepper to taste
Tabasco or preferred hot sauce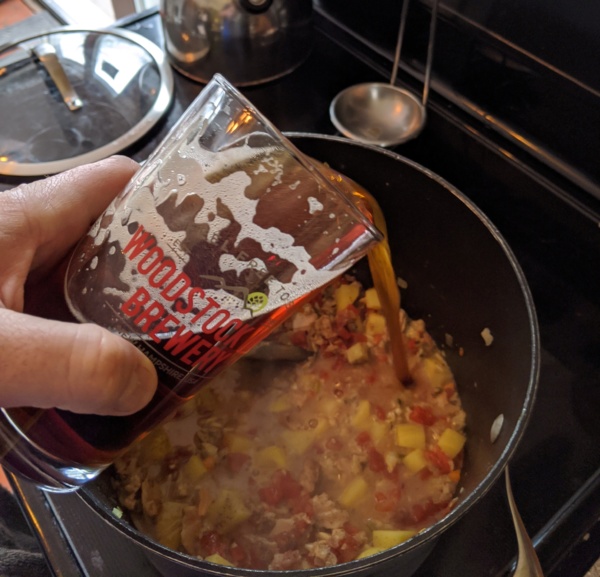 INSTRUCTIONS:
Cook the bacon. Slowly cook the bacon with the olive oil on medium heat until the bacon is crispy and the fat is rendered. Remove the bacon from pot, reserving the bacon grease.
Add the carrot, celery, onion; then garlic. Increase the heat to medium-high, in the bacon grease, sauté the carrots, celery and onion until soft and translucent, about 4-5 minutes. Do not brown the vegetables. Add the garlic and cook for an additional minute. Return bacon to the pot.
Add Red Rack beer and frozen/canned clams to the pot. Bring to a boil, and continue boiling for 3-4 minutes until the alcohol has cooked off.
Add herbs, V8 Juice and clam broth, and mix well, then add the potatoes. Bring to a simmer, cover and simmer gently until the potatoes are done; about 30-40 minutes.
Add live clams. When the potatoes are tender, add the live clams. Cover the pot and simmer until the live clams open up, about 5-10 minutes.
Add hot sauce, salt and pepper to taste.
Place a clam shell or 2 in each bowl when serving.