This Jambalaya is jazzed up with Frosty Goggles, which we consider to be the best winter ale in the Northeast. This southern recipe will warm your soul during the winter months! Try our Frosty take on a "Big Easy" classic recipe.
INGREDIENTS
2 Cans Frosty Goggles Red Pale Ale
1 lb. peeled shrimp
12 oz. Andouille Sausage, sliced into rounds
1 lb. boneless, skinless chicken breasts, cut in 1-inch cubes
1 onion, diced
1 yellow pepper, seeded & diced
1 red pepper, seeded & diced
2 stalks celery, chopped
4 cloves garlic, minced
14 oz. can crushed tomatoes
1 can fire roasted diced tomatoes
1 tsp. salt
1/2 tsp. black pepper
1 tsp. dried thyme
1 tsp. dried oregano
1/2 tsp. red pepper flake
1/4 tsp. cayenne pepper
1/2 tsp. hot sauce
2 tsp. Worcestershire sauce
1 can Okra or 1 cup thinly sliced okra
2 cups chicken broth
DIRECTIONS
Step 1: Cook Andouille sausage in a Dutch oven or soup pot until browned.
Step 2: Deglaze with 1/2 can Frosty Goggles; remove sausage once all liquid is reduced.
Step 3: Add chicken into pot with sausage drippings; cook until browned, then deglaze with ½ can Frosty Goggles. Remove chicken once liquid is fully reduced.
Step 4: Add all veggies and cook until soft, then once again deglaze with ½ can Frosty Goggles and reduce by half.
Step 5: Add all tomatoes, 2 cups chicken broth, all protein and top off with 1/2 cup Frosty Goggles.
Step 6: If using Dutch oven, place in the oven at 400° for 35-45 minutes. If using a soup pot, bring to boil then reduce heat and simmer uncovered for 30 minutes.
Step 7: Add shrimp during the last 5 minutes of cooking time; garnish with chopped chives or sliced scallions and enjoy!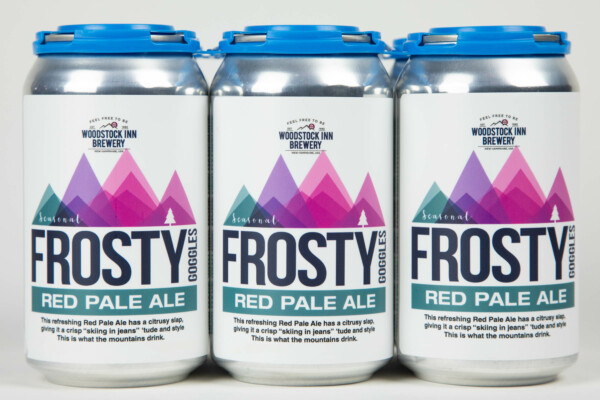 ABOUT THE BEER
Frosty Goggles is a seasonal beer available from November through March. This refreshing Red Pale Ale has a 5% ABV and is balanced by piney and citrusy hops. You'll notice a slight caramel malt profile that's surprisingly crisp.
Frosty Goggles is available at the brewery and in package and grocery stores throughout New England, including Maine, Massachusetts, New Hampshire, Rhode Island and Vermont. Can't find our beer? We can help!
Our on-site brewery is one of the oldest in the state and 25 year-round and seasonal brews are made annually. Additionally, as many as 15 beers rotate on tap, a few of which are brewery-only recipes.
Woodstock Inn Brewery is not just about beer, we're an ideal location for a destination wedding, corporate event, special party or a getaway. Stay in one of our 40 rooms and suites and explore the basecamp of the White Mountains. Plus, we have an on-property restaurant serving award-winning food for breakfast, lunch and dinner.
2022 is the 40th Anniversary of Woodstock Inn Brewery
We're celebrating with 5, new, limited edition beers.
More information, coming soon!